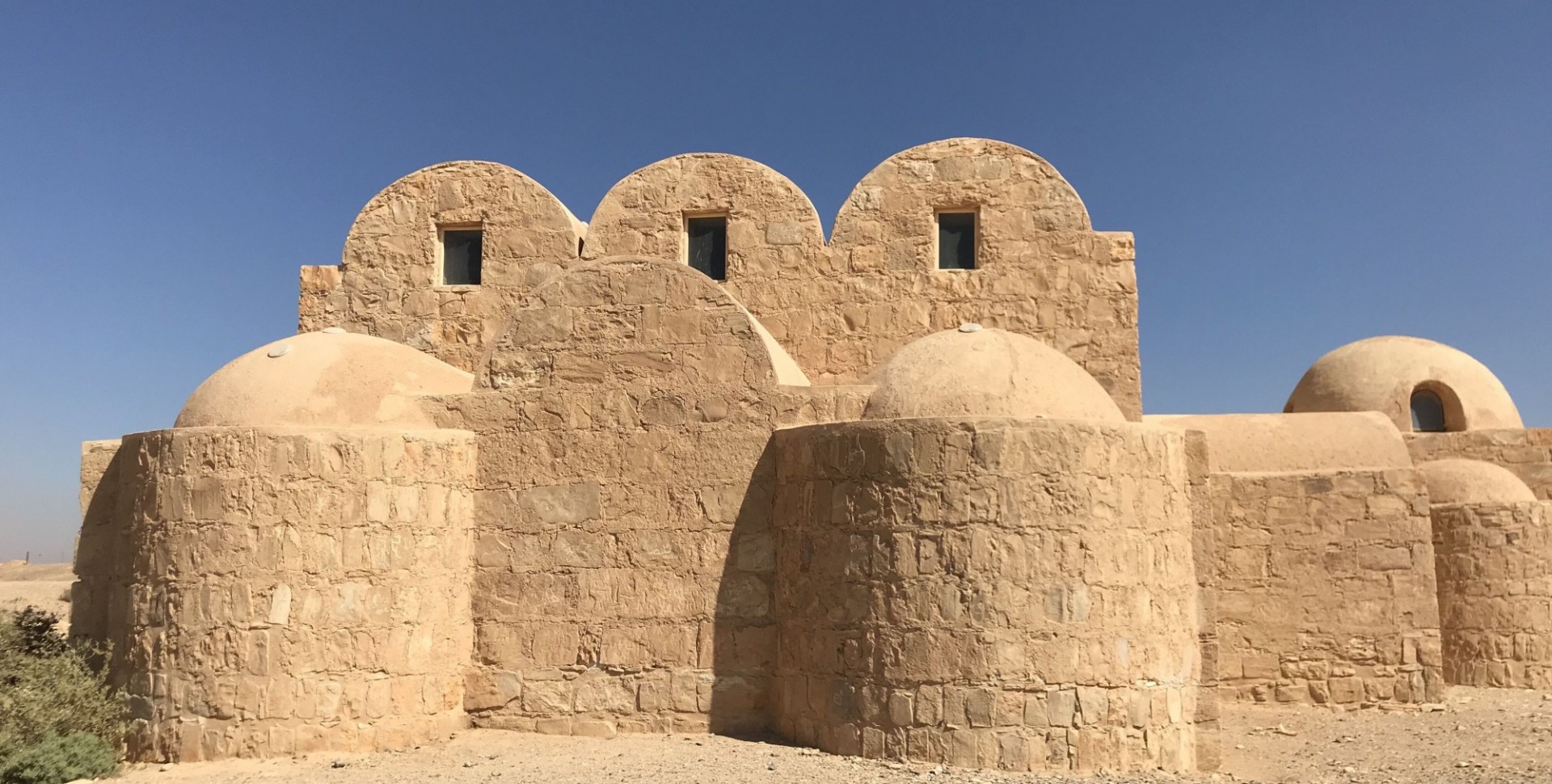 Quṣayr ʻAmra (Jordan). Photo: Sydney Houghton Weinberg.
​With a pledge of $1.15 million in 2017, the Sidney J. Weinberg Jr. Foundation helped the Italian Academy to launch a vital project to bring 20 additional Fellows over five years to study architectural history and preservation. Four Fellowships are awarded each year, running concurrently with the Academy's other residential fellowships.​ 
Because of the success of the initiative, the Weinberg Foundation ​is extending its support ​beyond the original term and will continue to fund up to four Fellowships ​in 2023–24​.
---
Designed to support the understanding and conservation of architecture of all geographic areas and periods, the Weinberg Fellowship is crucial in this era of grave threats to our shared global heritage, when monuments and buildings are threatened by war, neglect, natural disaster, and urban development. Casting a wide net, the Fellowship program fosters work that is practical as well as theoretical.

The Sidney J. Weinberg Jr. Foundation is an independent foundation in New York that supports health, science, the arts, and educational institutions. This Fellowship project was spearheaded by Sydney Houghton Weinberg, a trustee of the Foundation (which was founded by her father, Sidney), who received a master's degree from Columbia with a thesis on the architecture of Francesco di Giorgio.

This initiative is developed in conjunction with the Academy's International Observatory for Cultural Heritage, which sponsors and encourages research on monuments, artifacts, and traditions.

More details and deadlines are on the Fellowship Program page, along with news on the Academy's opportunities in other fields.

Listed below are all past and current Weinberg Fellows.
Weinberg Fellows
The University of Technology (Baghdad, Iraq)

Weinberg Fellow in Architectural History and Preservation

Preserving cultural and architectural heritage in Iraq for positive peace

2021-2022: Spring

Dr. Venus Suleiman Akef is an award-winning architect and scholar. She received her PhD in Architecture in 2019 and graduated with a Certificate in Historic Preservation in 2018, both from the University of Cincinnati, Ohio. She received her BSc and MSc in Architecture from the University of Technology in Baghdad, Iraq, where she currently works as an academic and faculty member.

Dr. Akef is the first Iraqi architect and scholar to speak at the General Assembly of the United Nations, introducing the concept of her PhD dissertation, Architecture for Positive Peace: The Role of Architecture in the Process of rebuilding Peace within conflict and postwar contexts. She is the first female winner of the Architect Prize of the Arab World, organized by the Arab League in 2009. She has been on the list of creative academics and scholars by the Ministry of Higher Education and Scientific Research in Iraq since 2010. She is the first female winner of Tamayouz, the Excellence Award in Architecture, for the Rising Star Category of Women in Architecture and Construction, 2014. She is also the winner of the Many Languages One World (MLOW) international competition, organized by ELS Educational Services, Inc., and the United Nations Academic Impact (UNAI), 2016. In 2020, She worked as the research assistant at the Iraq Hub for the international project led by the University of Leeds, United Kingdom: (Re) Contextualizing Contested Heritage: Building Capacity & Designing Participatory Approaches to Preserve Cultural Heritage by the Youth (United Kingdom, Iraq- Lebanon- Kosovo), 2020. She also serves as the Editor of the Preservation Section at the Iraqi Journal of Architectural Engineering and Planning (IQJAP), 2019- present.

Her research is currently focused on the role of architecture in postwar contexts, architecture as a platform for rebuilding a sustainable peace, preservation as a sustainable development strategy, cultural and architectural conservation, and building the discourse of the local architecture in the modern history of Iraq since 1900 (architecture and the sociopolitical transformations in Iraq since 1900).

University of Virginia

Shantytowns and intangible heritage across the Mediterranean preservation in an era of planetary urbanization

2018-2019: Fall

Weinberg Fellow in Architectural History and Preservation

Sheila Crane is associate professor and chair of the Architectural History Department at the University of Virginia. Her research examines the history and theory of modern architecture and urbanism, with a particular interest in cities in France, North Africa and the Mediterranean region. Her book Mediterranean Crossroads: Marseille and Modern Architecture (University of Minnesota Press, 2011) received the 2013 Spiro Kostof Book Award from the Society of Architectural Historians. Recent essays have appeared in City and Society, Space and Culture, and The Journal of Architecture, as well as in edited volumes, including Use Matters: An Alternative History of Architecture, edited by Kenny Cupers (Routledge, 2013) and Otherwise Occupied: Bashir Makhoul, Aissa Deebi, edited by Ryan Bishop and Gordon Hon (Palestinian Art Court-al Hoash, 2013). Her current book project, Inventing Informality, traces the emergence and migrations of the bidonville (shantytown) between the Maghreb and France, from the late 1920s through the 1970s. With reference to constructed landscapes and land rights, maps and urban plans, administrative records and sociological surveys, oral histories and literary descriptions, the bidonville is examined as an urban landscape, object of reengineering, site of knowledge production, and place of socio-spatial reinvention by residents. She is currently the book reviews editor for Europe, Africa, and Asia from 1750 for the Journal of the Society of Architectural Historians.

Università di Roma, Tor Vergata (Italy)

Weinberg Fellow in Architectural History and Preservation

Dialogues carved in stone: partnerships between architect-sculptors and their role in the diffusion of architectural "varietas" in late 15th-century Rome

2021-2022: Spring

Sara Bova is an architectural historian with a specific interest in patronage, material culture, and cross-cultural influences on architecture, notably in the Early Modern Period. She earned her Ph. D. in Architectural and Urban History at the Università IUAV di Venezia in 2017. She previously studied at the Università degli Studi "Mediterranea" di Reggio Calabria, where she graduated in Architecture (2009), and at the Università degli Studi di Roma Tre, where she gained a High Specialization Course Diploma in History of Architecture (2012).

Her research mainly focuses on the influence of Greek Humanism on patrons' architectural choices, considering them in the framework of their political and symbolic aspirations, economic resources, and literary sources. In her current research project, she aims to analyze the role played by the still-medieval organizational structure of workshops and building sites on the rise and character of the early-Renaissance architectural language, and also to assess how stonemasons' artistic and architectural practices contributed to defining the architectural identity of their working contexts, in particular in fifteenth-century Rome.

She received research and travel grants from the Accademia Nazionale di San Luca in Rome (2012, 2013), where she contributed to studying and inventorying several architectural drawing collections; and also from the Centro Internazionale di Studi di Architettura (CISA) Andrea Palladio (2016), and the Renaissance Society of America (RSA) (2020). Since 2018 she has been a Teaching Assistant in several Italian universities, while also collaborating as Research Assistant with the Superintendence for Architectural Heritage of the Vatican Museums (2018-2019), and with the Polo Museale del Lazio (Museum Center of Lazio) of the Italian Ministry of Culture (2019).

Koya University

Keeping memory: vernacular architecture in Iraqi Kurdistan

2018-2019: Fall

Weinberg Fellow in Architectural History and Preservation

An assistant professor in the Department of Architectural Engineering, Faculty of Engineering, at Koya University in Iraqi Kurdistan, Sahar has worked in this department since 2008, teaching classes in the history of architecture and conservation & rehabilitation as well as the Urban Design Studio.
She received her B.Sc. in Architectural Engineering (1997) and M.Sc. in Urban Design (2005) from the University of Technology - Iraq, and her Ph.D. in Urban Conservation (2011) from the University of Baghdad - Iraq.
She has since 2012 led a campaign to document the surviving heritage architectural features of Koya and of other nearby Iraqi Kurdish old towns, with her colleagues and students.
In 2009 she had a 3-month scholarship at the Brandenburg University of Technology in Germany, via the German Academic Exchange Service (DAAD); in 2016 she was an awardee of the 2016 SAH-Getty international program grant (presented by the Society of Architectural Historians and the Getty Foundation).
She has been a member of the Iraqi Engineers Union (IEU) since 1997; a consultant architect since 2014; and a member of the Society of Architectural Historians (SAH) since 2015.
Her participation in conferences and publications reflects her research interests in conservation, urban design, and the history of architecture.

Web page: https://sites.google.com/a/koyauniversity.org/sahar-basil/

University College London

Contesting the Byzantine past: four Hagia Sophias as ideological battlegrounds of architectural conservation in Turkey

2017-2018: Fall

Weinberg Fellow in architectural history and preservation

Pinar Aykac received her Bachelor's degree in Architecture and her MSc in the Conservation of Cultural Heritage from the Middle East Technical University where she worked as a research and teaching assistant. She holds a PhD from UCL, Bartlett School of Architecture. Her research discusses how the museum concept expands into the historic city through a musealisation process and transforms the urban form of the Sultanahmet district, which has been the public face of Istanbul's historic peninsula. She was a conservation team member of the Presidential Ataturk Museum Pavilion Conservation Project, Commagene-Nemrut Conservation and Development Programme, and the Gordion Conservation Management Plan. She also worked as a consultant for conservation projects in Turkey such as Okten and Sabuncuoglu Soap Factories in Antioch and the city of Hasankeyf Surveying, Restitution, Emergency Measures, and Reinforcement Project.

German Historical Institute London

People inside ruins: heritage, photography, and counter-archives

2019-2020: Fall

Weinberg Fellow in Architectural History and Preservation 

Dr. Mirjam Brusius is a historian of material and visual culture with a strong interest in the history of photography, museums, collecting, archaeology and heritage. Looking at the cross-cultural circulation of objects and images between Europe and the Middle East, her current research projects embrace two interrelated themes: First, she examines how artifacts from the Islamicate world were appropriated in museums of the 'Western world'. The second project concerns how photography was applied in the Islamicate world. Mirjam participates in relevant meetings and takes part as a panelist, commentator, and keynote speaker in public debates on colonial legacies and collecting. She holds an MA in Art History, Cultural Studies and Musicology (Humboldt-Universität zu Berlin 2007) and a doctorate in History and Philosophy of Science (University of Cambridge 2011). She is currently a Research Fellow in Colonial and Global History at the German Historical Institute London (GHIL), which she joined in 2017, having held fellowships at the University of Oxford, Harvard University, the Kunsthistorisches Institut in Florenz, and the Max Planck Institute for the History of Science. 

Web page: https://www.ghil.ac.uk/staff/brusius.html

 

National University of Singapore

When shrines grow tired: caring for cultural artifacts in the premodern world

2018-2019: Spring

Weinberg Fellow in Architectural History and Preservation

Born in Rome, I am a professor of cultural history at the National University of Singapore. I held visiting appointments at Université Paris Diderot VII, Humboldt University, UC Berkeley and Cornell University. I have published widely on the cultural history of Thailand (with a focus on material culture) and on heritage conservation in Southeast Asia including the books, Monastery, Monument, Museum: Sites and Artifacts of Thai Cultural Memory (2017), Thailand the Worldly Kingdom (2007), Lords of Things: The Fashioning of the Siamese Monarchy's Modern Image (2002), The Politics of Ruins and the Business of Nostalgia (2002). My articles have appeared in the Journal of Social Archaeology, Journal of Social History, and Modern Asian Studies among others. My abiding interest in classical architecture and Roman history underlies my research project at the Italian Academy.

Web page: http://nus.academia.edu/MaurizioPeleggi

Architectural Association School of Architecture (London, UK)

Weinberg Fellow in Architectural History and Preservation

Sacred spaces in profane buildings

2022-2023: Fall

Matilde Cassani studied Architecture at Politecnico di Milano and UPC, Universidade Politecnica de Catalunya, in Barcelona. She holds a PhD in Spatial planning and Urban Development at Politecnico di Milano. She worked for GTZ, German Technical Cooperation, in Sri Lanka, where she developed research on the post-tsunami reconstruction process. She was a consultant for the World Bank in Malawi, and she's currently a practicing architect at Matilde Cassani Studio.

Her practice deals with the spatial implications of cultural pluralism in the contemporary Western city. Fundamental themes of her research activity concern cultural difference as a generative model of building design and public space; religious differences in the contemporary city and their spatial implications (temporary places of worship, celebrations, pilgrimage sites); the relationship between public space and superdiversity in the contemporary European city.

Her works have been showcased in many cultural institutions, art galleries and were published in several magazines. She has been a resident fellow at "Akademie Schloss Solitude" in Stuttgart and at the "Headlands Center for the Arts" in San Francisco. The long-term research project "Sacred spaces in profane buildings" has been exhibited, among others, in a solo show at Storefront for Art and Architecture in New York. She designed the National Pavilion of the Kingdom of Bahrain at the XIII Venice Architecture Biennale in 2012, and she was part of the XIV Venice Architecture Biennale with the piece "A Celebration Day", acquired by the Victoria and Albert Museum in London. She was involved in the Chicago Architecture Triennale, Oslo Triennale and Manifesta12 and the XVII Architecture Biennale. She has taught and lectured in many international universities, and she currently teaches at NABA, and at the Architectural Association in London working with Unit 11.

Columbia University (U.S.A.)

Preservation in practice: U.S. Southern architecture for fire prevention

2020-2021: Fall

Weinberg Fellow in Architectural History and Preservation

Jonah Rowen is an architectural historian and educator whose work focuses on the intersections between architectural technics and construction, economics, environments, materials and commodities, and labor. He received his Ph.D. from the Columbia University Graduate School of Planning and Preservation, with a Certificate from the Institute for Comparative Literature and Society. There, he wrote a dissertation on buildings' design and production, figured as technologies of risk management and security, in the setting of nineteenth-century Anglo-Caribbean colonialism and exchanges. His research for that project was based on documents from archives in the Caribbean and the U.K., including business records, architects' drawings and other forms of accounting, and their written correspondence with other building professionals, from engineers, fabricators, and builders to insurance agents. Close analysis of drawings constitutes an especially significant mode of evidentiary study in his scholarly work. He holds a Master of Architecture from Yale University, and has taught at Rice University, the Parsons School of Design, the Cooper Union School of Architecture, Columbia University and Barnard College, and the Southern California Institute of Architecture. Among his publications are essays in Grey Room, Log, and Pidgin, and he was a founding editor of Project: A Journal for Architecture.

Università degli Studi Roma Tre (Italy)

Seismic assessment of cultural heritage: safety and conservation

2019-2020: Spring

Weinberg Fellow in Architectural History and Preservation

Gianmarco de Felice is professor of structural engineering at the Department of Engineering of Roma Tre University, where he teaches the courses of Earthquake Engineering and Rehabilitation of Structures. He graduated in 1990 at the University La Sapienza in Rome and received his PhD in 1994 from the University of Florence. He was research associate at the École Nationale des Ponts et Chaussées, Paris in 1994-95, researcher at the Faculty of Architecture of Roma Tre University from 1996 to 2001, associate professor at the Faculty of Engineering, and then full professor since 2011. 

He is head of the PhD School in Civil Engineering at Roma Tre University, chairman of the RILEM Technical Committee TC-250 CSM Composites for the Sustainable Strengthening of Masonry from 2013 and chairman of the ACI 549-0L Liaison Committee on Thin Reinforced Cementitious Products and Ferrocement from 2016. He is associate editor of Frontiers in Structural Materials and Advances in Civil Engineering, member of the editorial board of the International Journal of Architectural Heritage, member of the drafting committee of the Charter of Rome on the Resilience of Art Cities to Natural Catastrophes. He is also one of the founders and professor of the summer school on Historic Masonry Structures.

His current research activity encompasses the structural analysis of cultural heritage; the seismic assessment of historic structures, including soil-structure interaction; the retrofitting of monuments and architectural heritage; and the development of innovative strengthening systems through the use of composite materials. He has been invited to give general lectures to several Conferences such as: 8th SAHC, Wrozlaw 2012; 15th MASE , Struga 2013; MuRiCo4, Bologna 2014; Accademia dei Lincei, Rome 2015; 10th SAHC, Leuven 2016, BASA, Sofia 2016; Festival della Scienza, Genova 2017; MuRiCo5, Bologna 2017; 6th ISCCHS, Trabzon 2017; CIRea2018, Lisbon 2018; MuRiCo6, Bologna 2019.

In recent years he has been visiting professor at UC Miami in March 2017, at INSA Toulouse in October 2017, and at École Doctorale Paris Est in January-February 2019. He has been the scientific coordinator for the design of several engineering projects on heritage conservation and structural rehabilitation, such as the restoration of the Abbey of San Clemente in Casauria, supported by the World Monuments Fund and awarded by the 2016 Domus International Award for Restoration and Conservation, and the restoration of the Farnese Palace in Ischia di Castro, attributed to Antonio da Sangallo, and awarded by the Sisto Mastrodicasa 2017 Prize.

Web page: http://www.uniroma3.it/persone/QUNJdXkvcExDWklFaTIzd3BSZWpZUVJPUkJyNGVMM...

Università della Svizzera italiana (Mendrisio, Switzerland)

Weinberg Fellow in Architectural History and Preservation

Graphic satire and the public perception of architecture: a missing genre

2021-2022: Spring

Gabriele Neri (Milan, 1982) is an architectural historian and architect. He is currently Mâitre d'enseignement et de recherche at the Accademia di architettura of the Università della Svizzera italiana in Mendrisio, CH. Since 2011, he has been adjunct professor of History of Design and Architecture at the Polytechnic of Milan. He holds a Ph.D. in History of Architecture and Urban Planning (Polytechnic of Turin, 2011). In 2018, he was appointed member of the Board of Directors of the Fondazione Museo del Design (Triennale Milano).

Since 2008, he has been studying the relationship between satire and architecture in the twentieth century in Europe, Australia and the US. This research led to the publication of the volume Caricature architettoniche. Satira e critica del progetto moderno (Macerata, 2015), one of the first attempts ever to present an international overview and collection on the theme.

His research also focuses on the work of the Italian architect and engineer Pier Luigi Nervi: Gabriele Neri is the author of Capolavori in miniatura. Pier Luigi Nervi e la modellazione strutturale (Mendrisio, 2014), Pier Luigi Nervi in Africa (Macerata and Cape Town, 2021), and the curator of an anthology with Nervi's writings (Novara, 2014).

He has curated various exhibitions and volumes on twentieth century architecture, including: Vico Magistretti Architetto milanese (Triennale Milano, 2021), "Umberto Riva. Forme" (Galleria Sozzani, Milan 2019), "Louis Kahn and Venezia" (with E. Barizza, TAM Mendrisio, 2018), etc. His articles on architecture appear regularly on the cultural pages of the Italian newspaper Il Sole 24 Ore.

Web page: https://search.usi.ch/en/people/b9de9895635627e1bae6efc33aebbc60/neri-ga...

Università IUAV di Venezia

"Verona, the second Rome": defining a local identity in the Renaissance Veneto

2017-2018: Fall

Weinberg Fellow in architectural history and preservation

Francesco Marcorin holds a PhD in Architectural History from the IUAV University of Venice (2014). His research activity merges architectural/art history and archaeology and provides an alternative reading of the development of the Renaissance architectural language, analyzing the strong influence exerted by non-Vitruvian models such as local antiquities, Late-Antique monuments and Medieval buildings. More specifically, the 16th Century re-discovery of Late-Antique architecture and the definition of new models – exogenous to the Classical language – have been analyzed in detail in several articles and conference papers, with a specific focus on early-modern Rome and Venice and architects of the likes of Antonio da Sangallo the Younger, Andrea Palladio and Michele Sanmicheli.

After completing his PhD, Francesco has conducted archival and curatorial activities: in 2014-15 he cooperated with the State Archives of Verona for the full inventory of the Bevilacqua family archive; in 2016 he worked at the Palladio Museum in Vicenza as assistant curator for the exhibition "Andrea Palladio. Il mistero del volto" (The mystery of Palladio's face) and in 2017 with The Frick Collection in New York as Ayesha Bulchandani Curatorial Intern.

Web page: https://iuav.academia.edu/FMarcorin

Alma Mater Studiorum, Università di Bologna (Italy)

Weinberg Fellow in Architectural History and Preservation

The birth of architectural criticism in early modern Italy

2022-2023: Spring

I published on several aspects of Renaissance Architecture, theory and historiography including books and essays on Giotto, Baccio Pontelli, Aristotele Fioravanti, Francesco di Giorgio Martini, Michelangelo, Raphael, the Sangallo family, Gerolamo Genga, Medieval and Renaissance public architecture in Bologna, and religious and military architecture in the Marche region. I also published on building materials and techniques, history of design, painted architecture, Quattrocento architecture in Rome and Central Italy, the rediscovery of antiquity, and Marginalia on Renaissance architectural treatises. I dealt with Neo Renaissance architecture in New York and postwar engineering, focusing on structural engineer Mario Salvadori. I worked and published on Rudolf Wittkower and on Colin Rowe's archival materials.

I am currently completing a book on Antonio da Sangallo the Younger's studies on Vitruvius. I was the recipient of several fellowships, including the Kunsthistorisches Institut in Florenz, the Italian Academy, Columbia University and the Getty Research Institute. I am the director of the Serlio Digital Project (Avery Library, Columbia University) and I coordinated the study group of Palazzo Farnese at Caprarola appointed by the Italian Ministry of Culture. I taught at Columbia University, New York and I have been Visiting Professor at the Bartlett School of Architecture, London and at the Higher School of Economics, Moscow.


Webpage: https://www.unibo.it/sitoweb/f.benelli/en

 

Scuola Normale Superiore di Pisa

The cultural roots of landscape protection in France, the United Kingdom, Italy, and the United States (19th–20th centuries)

2017-2018: Spring

Weinberg Fellow in architectural history and preservation

After the Ph.D. in History of Archaeology at the Scuola Normale Superiore of Pisa and the collaboration with Monumenta Rariora Project, Denise La Monica has devoted her interests to the protection of cultural heritage, working as research team and project coordinator in the Laboratorio per la Ricerca, Analisi, Tutela, Tecnologie ed Economia per il patrimonio culturale at the Scuola Normale Superiore. She has developed research projects on different topics, such as the organization of local museums in net systems, the historical development of cultural heritage protection, the underwater cultural heritage, and the abandon and reuse of historical buildings considered as public assets. Over the years, she has published articles not only in scientific journals, but also in newspapers, addressed to a wider public. Among her recent publications: I mascheroni in bronzo del Tacca: dalla Fortezza Vecchia al Museo Civico di Livorno; Un dibattito inedito, Annali di Critica d'Arte, 11/2016, 477-496; I Quattro Mori: un monumento caro alla popolazione e ammirato dai forestieri, I territori del patrimonio, ed. R. Balzani, Il Mulino, Bologna, 2015, 95-133.

She is a founder and an active member of Patrimoniosos (http://www.patrimoniosos.it)

Zentralinstitut für Kunstgeschichte (Munich, Germany)

Majestic shadow of the past: documentation and narrative photography of Hadrian's Villa and Tivoli (1850–1930)

2019-2020: Spring

Weinberg Fellow in Architectural History and Preservation

I completed my PhD in the History of Art in Freiburg im Breisgau, with a Dissertation on Baroque Sculpture in Cardinal's Tombs (1650-1750). During that time, I was a DAAD Fellow, a Doctoral Fellow at the Albert-Ludwigs-Universität in Freiburg, and a Doctoral Fellow at the Bibliotheca Hertziana in Rome. In the last position, I served as research and executive assistant to the director between 2001 and 2014, where I worked on the conception and realization of conferences and subsequent publications. In 2010 I was awarded the Hanno und Ilse Hahn Prize for my research devoted to the architectural drawings by Filippo Juvarra and the elaboration of the antique in his 'capricci'. My scientific collaborations include projects such as "Architettura e Potere. Lo Stato Sabaudo e la costruzione dell'immagine in una corte europea" (Rome/Turin 2009-2014 with E. Kieven); "Heinrich von Brühl (1700–1763): ein Mäzen in Europa des 18. Jahrhunderts" (Dresden/Rome 2014-2017 with U.C. Koch); "Phönix aus der Asche. Bildwerdung der Antike: Druckgrafiken bis 1869" (Munich 2019 with U. Pfisterer). My last DFG-Research Project at the Zentralinstitut für Kunstgeschichte in Munich "Hadrian's Villa as a Microcosm. A Space of Artistic Interaction in 18th- and 19th-Century Europe" focused on the significance of the imperial site as a "globalizing area", "dynamic contact zone", and "space of artistic interaction". As a fellow at the Italian Academy in 2020, I will investigate the impact of photography on the reception of the Roman Campagna and the survival of its ancient historical sites, with a particular attention on Tivoli and Hadrian's Villa as a privileged and ideal point of departure. This project traces the pivotal paradigmatic relationship of photography to both the precise records of antiquities – from excavations, through to preservation and restoration (documentation) – and in chronicling the undertakings of passionate and erudite travelers (narrative).

 

Accademia di architettura – Università della Svizzera Italiana

The Karlsruhe albums and their significance for Piranesi studies

2017-2018: Spring

Weinberg Fellow in architectural history and preservation

Christoph Frank (Basel, 1963) is a historian of the classical tradition who specializes in seventeenth- and eighteenth-century European art and architecture with an occasional overlapping interest in twentieth-century art and politics, particularly in relation to issues of cultural looting and genocide. He studied the History of Western Art at the Courtauld Institute of Art in London where he received his B.A. (1986) and M.A. (1987) before continuing his studies at the École des Hautes Études en Sciences Sociales (EHESS) in Paris and at the Warburg Institute in London where he completed his Ph.D. in 1993 in the History of the Classical Tradition with a thesis entitled "The Mechanics of Triumph: Public Ceremony and Civic Pageantry under Louis XIV". Following German Unification, he worked at the Research Center for European Enlightenment Studies in Berlin/Potsdam and from 1999 until 2003 at the Bibliotheca Hertziana - Max-Planck-Institut für Kunstgeschichte in Rome. In 2005, he was nominated full professor of the History and Theory of Art and Architecture at the Accademia di architettura of the Università della Svizzera italiana in Mendrisio, where in 2011 he founded the Istituto di storia e teoria dell'arte e dell'architettura. He has recently written on the Roman agent Johann Friedrich Reiffenstein (1719-93), on the artistic correspondences of Margravine Karoline Luise von Baden (1723-83) and the rediscovery of Etienne-Maurice Falconet's "L'Amitié au coeur" of 1765, stolen from the Rothschilds during WWII. Furthermore he was closely involved in the recent identification of two albums of drawings, preserved at the Staatliche Kunsthalle Karlsruhe, and now attributed to the Roman artist Giovanni Battista Piranesi (1720-78) and other members of his workshop, which will be the subject of Professor Frank's fellowship at the Italian Academy. 

Web page: http://www.isa.arc.usi.ch

Kunsthistorisches Institut in Florenz – Max-Planck Institut; Stuttgart State Academy of Art and Design

Struggle for democracy or culture of dominance? The agora in postwar architectural discourse

2018-2019: Spring

Brigitte Sölch is Professor of History and Theory of Architecture/Design History at Stuttgart State Academy of Art and Design as well as Associate Member of the Kunsthistorisches Institut in Florence - Max-Planck-Institute, where she served till 2018 as academic assistant and co-project leader of "Ethics and Architecture" and "Piazza e monumento". She is an art and architectural historian with a Habilitation (Humboldt University in Berlin) for the "forum" on architectural, aesthetic and sociopolitical ideas between the Renaissance and the present and an award-winning Dissertation on the beginning of public museums in Rome in the early 18th century. She published articles on the struggle for democracy, the piazza as western metaphor, the emotive impact of institutional architecture and the human body in architecture. As fellow of the Italian Academy for Advanced Studies in America at Columbia University NY in 2019 she will be studying "The Agora in Postwar Architectural Discourse". The focus of her research is on concepts and broader understanding of urban public space, politics and the history of ideas. Brigitte pursued her research interests by working in museums, universities, and international research institutes.

Accademia di Belle Arti di Palermo (Italy)

The oblivion of a Renaissance monument: Antonello Gagini's tribune in the Cathedral of Palermo

2021-2022: Fall

Weinberg Fellow in Architectural History and Preservation

Alessandra Buccheri is professor of History of Art at the Accademia di Belle Arti di Palermo. In 2009, she completed her PhD at the University of Oxford, where she received various awards (Arts & Humanities Research Council Postgraduate Award, Scatcherd European Scholarship, Isaiah Berlin Fund). She has been a fellow at the Fondazione Roberto Longhi in Florence (2002-2003), and has worked as scientific collaborator at both the Museo Galileo in Florence (2004) and at the CRIBECU (Scuola Normale Superiore di Pisa, 2003-2004). She is a partner in the research project Apropiaciones e Hibridaciones entre las Artes Plásticas y las Artes Escénicas en la Edad Moderna (2016-2020), Universidad de Málaga, founded by the Ministerio de Economía y Competitividad (Spain).

Her main area of research is visual culture in early modern Italy, with a special focus on theater, architecture and decoration (including sculptures and paintings in their original architectural context). She is also interested in gender studies and women in the visual arts. Her published volumes include Quando l'ornamento non è delitto. Un percorso attraverso la cultura visiva siciliana dal tardo-gotico al Novecento? (2020), co-edited with Giulia Ingarao, and Archetipi del femminile. Rappresentazioni di genere, identità e ruoli sociali nell'arte dalle origini a oggi (2017), co-edited with Giulia Ingarao and Emilia Valenza. Her most recent monograph, The Spectacle of Clouds, 1439-1650. Italian Art and Theatre (2014), explores the origin and meaning of cloud compositions by looking at the complex relationship between their three-dimensional construction and display in religious and court theater, and their pictorial representations both in churches and secular buildings.

The research she will pursue at the Italian Academy focuses on the history and reception of an Italian Renaissance monument, the Tribuna, erected between 1510 and 1574 in the presbytery of Palermo's Cathedral (Sicily), dismantled and partly destroyed between 1788 and 1801. The Tribuna, which was 24.5 metres high, entirely made of Carrara marble, and enriched with 42 life-size statues, has largely been overlooked by scholars, institutions, and public alike. The main aim of this project is to refocus attention on the Tribuna and bring it back to both public and scholarly attention.

Website: http://www.accademiadipalermo.it/index.php/profilo-docente/?teacher_id=5

Sveučilište u Zagrebu (Croatia)

Urban heritage of modernism on the Adriatic coast: transformation of the Italian post-industrial Mediterranean landscape

2019-2020: Fall

Weinberg Fellow in Architectural History and Preservation

Alen Žunić completed his Master's in Architecture, in 2013 at the Faculty of Architecture in Zagreb (summa cum laude). He continued his studies at the AA London Visiting School (2011) and the ETH Summer Academy (2012). In 2015, he completed his postgraduate Master's degree in history and philosophy of architecture at the GSD Harvard University; in 2016, he received his PhD at the FA in Zagreb, where he is also a research associate; he recently finished his post-doctorate research at ETH Zürich - GTA Institute, focusing on modern and contemporary architecture.

He currently works as an assistant professor at the Faculty of Architecture and is a guest lecturer at the Faculty of Humanities and Social Sciences University of Zagreb. He works as a critic and theoretician with more than 250 published scientific and professional papers.

Žunić has published 14 books as an author, co-author or editor: Context of Architecture (2014), Boris Magaš – Thoughts on Architecture (2014, 2018), several editions of Zagreb Architecture Guide – An Anthology of 100 Buildings (2012, 2013, 2015, 2018), the monograph Architect Branko Kincl (2016), Velimir Neidhardt: Thinking Architecture (2018). The most recent book that he co-authored is the great monograph Islamic Architecture and Art in Croatia – Ottoman and Contemporary Heritage (2018). 

He exhibited at the Zagreb Salon of Architecture, Architectural Salon in Novi Sad, and multiple times at the annual exhibition of the Croatian Architects' Association. He received awards in competitions for urban design and architecture.