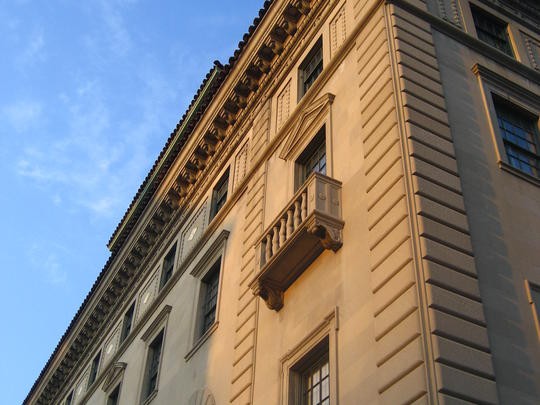 · Advanced research across the disciplines
· Fellowship Program with 20+ residential scholars each year
· Public conferences on urgent academic, cultural, and scientific topics.
The Italian Academy is a premier global center for research in the humanities and sciences, founded in 1991 on the basis of an agreement between Columbia University and the Republic of Italy. Its chief commitment is to promote groundbreaking cross-disciplinary work while addressing international social issues.
Fellowship program
As the core of the Academy's work, the Fellowship Program invites scholars to dedicate one or two semesters to research. Each group has a balance of postdoctoral researchers, mid-career scholars, and full professors; they are chosen by a jury of experts in the relevant fields.
Other initiatives 
• The Arts, Humanities, and Neuroscience Project has for over 20 years hosted resident scientists and regularly presented conferences on cutting-edge research.
• The International Observatory for Cultural Heritage is dedicated to all issues relating to thesurvival, protection, and conservation of cultural heritage; the Observatory is the home of the Weinberg Fellowships project as well as other research initiatives and symposia.
• The NOMIS Project on Migrations and Mobility explores the transition from foraging to farming.
• Since 2006, the Alexander Bodini Foundation has offered Fellowships in adolescent psychiatry and supported occasional year-long initiatives in the social sciences.
• Cultural programs include a concert series bringing world-class Italian music to New York; the Premio New York, a prize for emerging Italian artists; and public art exhibitions throughout the year.
Hosted in the Academy building
The Columbia University Seminar in Modern Italian Studies holds regular meetings in the Academy's Conference Room to address political, social, cultural, and religious aspects of Italian life from 1815 to the present. The Center for the Ancient Mediterranean at Columbia University, too, welcomes the public for regular talks in the Conference Room as part of its mission to link together all the faculty, students and numerous departments that have an interest in the cultures of the ancient Mediterranean and adjoining areas.