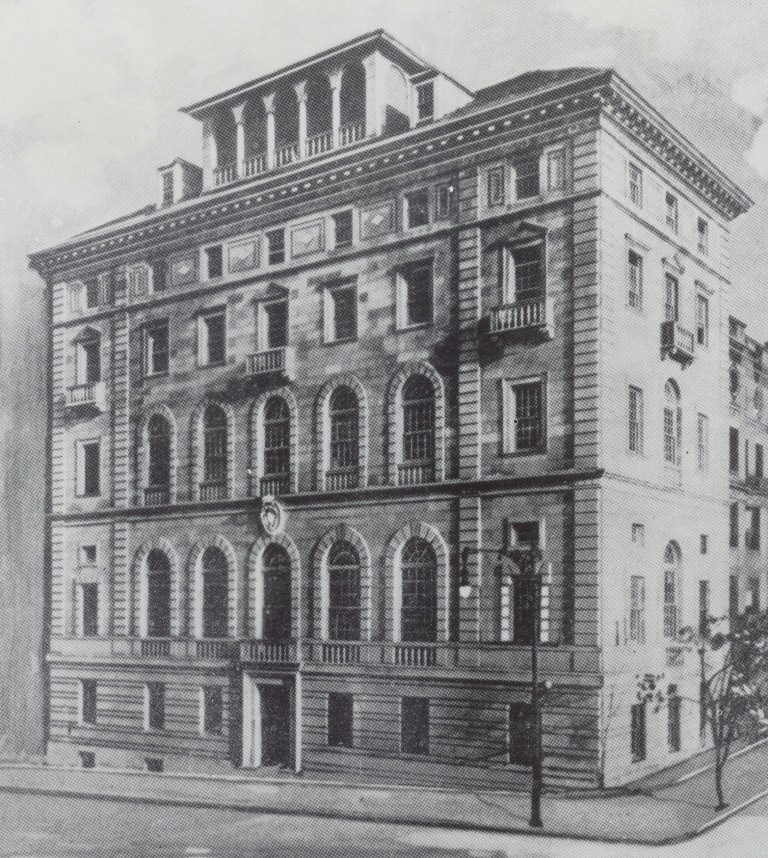 The history of the Academy goes back to 1927. In that year the Casa Italiana was established at Columbia University both as the seat of the Italian Department and as the principal center for Italian Studies in the United States.

The Casa was housed in McKim, Mead and White's graceful neo-Renaissance building on Amsterdam Avenue. The building and its initial programs were almost entirely funded by donations from the Italian-American community in New York. Few changes were made to the original building until the establishment of the Academy on the basis of a Charter signed in 1991 by the Presidents of Italy and Columbia University. 
This Charter provided not only for the foundation of the Academy, but also for the reconstruction of the original Casa. While the exterior of the building was retained in its original form, the interior was thoroughly remodeled in the restoration of 1991-3 by Italo Rota working together with the New York firm of Buttrick, White and Burtis. The reconstruction provided a set of well-lit and fully equipped studioli for visiting Fellows, enlarged the seminar rooms, completely restored the library, and modernized the elegant 200-seat theater (even while leaving its design and Renaissance details intact). 
The most important of the early directors of the Casa was the brilliant if controversial Giuseppe Prezzolini (1882–1982), one of the leading figures in Italian culture and literature in the twentieth century. Amongst the distinguished members of the Columbia professoriate associated with the Casa was the famous Renaissance philosopher and historian, Paul Oskar Kristeller. 
When the Italian Academy was created in 1991, the founding Director was Maristella Lorch, Professor of Italian at Barnard and Columbia. She was succeeded by Richard Brilliant, Professor of Greek and Roman Art and Archaeology, in 1996. The present Director, David Freedberg, Pierre Matisse Professor of the History of Art, was appointed Director in 2000. 
Although the history of the Casa clearly reflects its humanist origins, its recreation as the Italian Academy for Advanced Studies in America has enabled it to expand its activities to include all areas relating to Italian art, culture, science, politics and economics. Its Fellowship Program and the lectures and forums it hosts are specifically designed to make the Academy the chief center in the United States for research on all subjects relating to the history, culture, and life of Italy. 
For a detailed historical survey read Da Ponte to the Casa Italiana A Brief History of Italian Studies at Columbia University.
(Photo used with permission of the University Archives, Columbia University in the City of New York.)