Past Event
Summer Online Festival opens with Metropolitan Opera's Peter Gelb
August 14, 2020
12:00 PM - 2:00 PM
Event time is displayed in your time zone.
and Academy Fellow Gundula Kreuzer (Yale)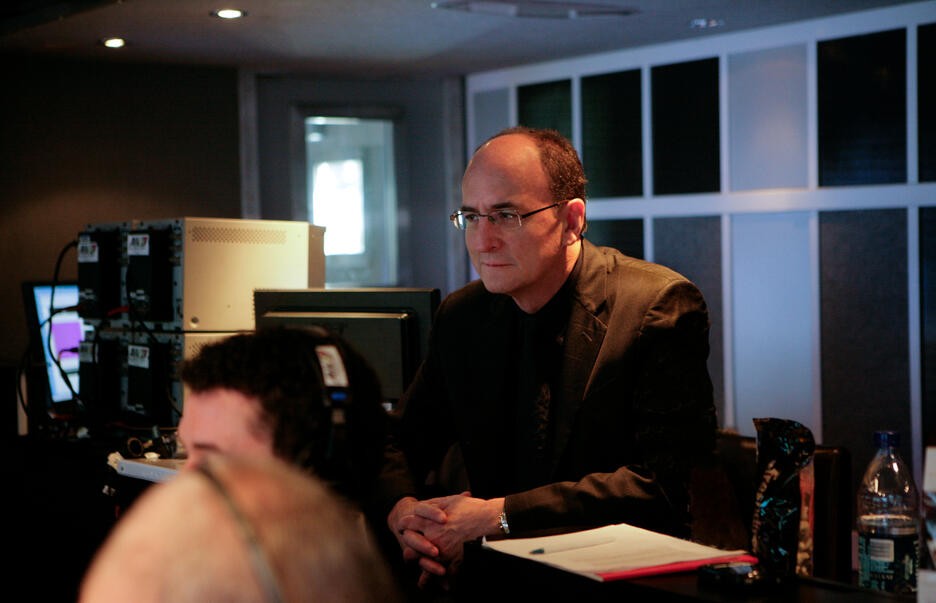 The Italian Academy's Summer Online Festival opens today with "There's no free pass into the future"—20 Questions for Metropolitan Opera General Manager Peter Gelb by Italian Academy Fellow Gundula Kreuzer.
Peter Gelb talks with Gundula Kreuzer about life at the Met during the pandemic, his decision to cancel the Fall 2020 season, and the future of opera
The festival continues tomorrow at 6 PM with a link to the Met's April 5, 2014, performance of Giacomo Puccini's La Bohème staged by Franco Zeffirelli and starring Kristine Opolais, Susanna Phillips, Vittorio Grigolo, Massimo Cavalletti, Patrick Carfizzi, and Oren Gradus. Conducted by Stefano Ranzano.
---
Peter Gelb
General Manager, Metropolitan Opera

Peter Gelb's career has followed a singular arc that began with his teenage years as an usher at the Metropolitan Opera and led to his appointment, in August 2006, as the storied company's 16th general manager.
Now in his 13th season at the helm of the Met, Mr. Gelb has overseen the launch of a number of initiatives aimed at revitalizing opera and connecting it to a wider audience since the start of his tenure. One of his fundamental goals has been to recruit the world's great theater directors to enhance the theatricality of the Met's productions and complement the company's extraordinary musical standards. Mr. Gelb is also committed to securing more engagements each season from the world's top singers. One of the most successful and trailblazing of his new initiatives is The Met: Live in HD, a Peabody and Emmy Award–winning series of live performance transmissions shown in high definition in movie theaters. The series has sold more than 24 million tickets since its inception in December 2006 and is currently seen on more than 2,200 screens in over 70 countries across six continents. The Met's HD programs have raised global awareness of opera, inspiring other institutions throughout the world that are in need of revitalization.
Mr. Gelb has also capitalized on new media technology to share Met performances with a wider global audience than ever before. In September 2006, Sirius Satellite Radio (now SiriusXM) launched Metropolitan Opera Radio, an around-the-clock channel broadcasting live performances each week as well as historic performances from the Met's vast radio archive. The Met Opera on Demand streaming service, available on any computer or iPad, makes more than 650 HD, standard-definition, and audio performances available online in stunning high quality on a subscription basis. The Met also presents free live streaming of performances on its website once a week. Other initiatives launched by Mr. Gelb include a commissioning program for new operas; free dress rehearsals for the public; a free live transmission of the opening-night performance onto giant screens in Times Square; an immensely popular rush tickets program that offers select seats in prime locations for weekday and weekend performances at dramatically reduced prices; and the commissioning and presentation of exhibitions by leading contemporary artists—by such artists as John Currin, William Kentridge, Julie Mehretu, Elizabeth Peyton, Julian Schnabel, Dana Schutz, and others—around the opera house.
From 1995 until joining the Met, Mr. Gelb was president of Sony Classical, one of the largest international classical record labels. He led the company through a period of notable growth and creativity, expanding the focus of recording projects to include best-selling film music, among them the Academy Award–winning scores for Crouching Tiger, Hidden Dragon by Tan Dun, The Red Violin by John Corigliano, and Titanic by James Horner, while preserving the label's tradition of recording Broadway musicals and maintaining an extensive catalogue of classical works by many of the best-known artists in the world. He also initiated Sony Classical's program of commissioning new music, something no other classical label had attempted in recent years.
Time magazine named Mr. Gelb a 2008 honoree of the Time 100 list of the world's most influential people. In 2010, France honored him as an Officier dans l'Ordre des Arts et des Lettres, and in 2012, he received the Diplomacy Award of the Foreign Policy Association. In 2013, he received the Sanford Prize from the Yale School of Music and was named Chevalier de la Légion d'honneur by the French President.
Mr. Gelb is the son of the late Arthur Gelb, former managing editor of the New York Times, and the late writer Barbara Gelb. He is married to conductor Keri-Lynn Wilson and has two sons.
---
Gundula Kreuzer
Professor of Music at Yale University

She was an Italian Academy Fellow 2015–16. She studied musicology, philosophy, and modern history at the Universities of Münster (Westphalia) and Oxford, where she earned her Master of Studies and D.Phil. in musicology. She held a Junior Research (postdoctoral) Fellowship at Merton College, Oxford, before joining the Yale Department of Music in 2005.
In both her writing and her teaching, Kreuzer approaches music from a wide range of interdisciplinary perspectives, such as social, cultural, and political history as well as theories of technology and multimedia. Her award-winning first book, Verdi and the Germans: From Unification to the Third Reich(Cambridge University Press, 2010), examines the changing impact of the popular Italian composer on German musical self-perception and national identity. Her second monograph, Curtain, Gong, Steam: Wagnerian Technologies of Nineteenth-Century Opera (University of California Press, 2018) addresses how composers since the late eighteenth century increasingly tried to control certain aspects of staging by embracing specific stage technologies. Focusing on the cultural resonances and hermeneutic potentials of the titular technologies of the curtain, the tam-tam, and steam before, in, and beyond Wagner, the book develops a deeply contextualized practical perspective on the nature and ephemerality of staged opera as well as its legacies in contemporary culture.
Together with Clemens Risi, Kreuzer guest-edited a double issue of The Opera Quarterly ("Opera in Transition"; vol. 23/2-3, 2011), and her critical edition of Verdi's instrumental chamber music for The Works of Giuseppe Verdi: Series V appeared with The University of Chicago Press and Ricordi in 2010. She was Reviews Editor of The Opera Quarterly, served on the editorial board of the Journal of the American Musicological Society, and continues to serve on the editorial boards of Cambridge Opera Journal, VerdiPerspektiven, and WagnerSpektrum. She also gained experience as a freelance radio presenter in Germany and has been contributing to broadcasts on WNYC and BBC Radio3.
In May 2019, Kreuzer launched the first annual YOST: Y | Opera | Studies Today conference at Yale on the topic of "Indie Opera" to foster a dialogue between practitioners and scholars of opera across and beyond campus and the East Coast. 
Special thanks to Peter Gelb, Kelly Davis, Charles Kaiser, and Gundula Kreuzer.