Italian Opera in the United States, 1800–1850: At the Origins of a Cultural Migration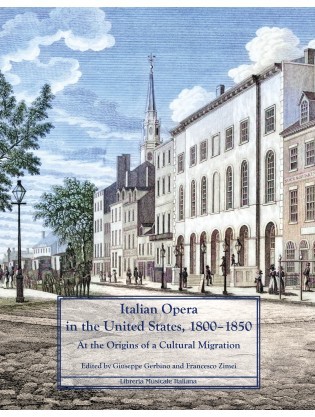 Editor(s) 
Giuseppe Gerbino and Francesco Zimei
Publisher 
Libreria Musicale Italiana
Year 
2023
Italian Opera in the United States, 1800–1850 explores the events that led Italian opera to cross the ocean and settle in the United States. A raft of neglected documentary artifacts, including hitherto unexamined records from historical newspapers, sheds new light on this phenomenon, which saw Italian artists and intellectuals immigrate to the United States during the century's first decades. Previously known but only partially understood episodes including Lorenzo Da Ponte's personal campaign to promote the Italian language in the US, and New York's Park Theatre controversial opera season of 1825–26, are newly contextualized in light of social, cultural, and political trends of the period. The book also maps the complex network of historical actors who labored to bring Italian opera to life in America. This network included political refugees such as Filippo Trajetta and Piero Maroncelli, passionate patrons such as Dominick Lynch Jr., and bold and sometimes unscrupulous theater managers including Stephen Price and Charles W. Sandford. Italian opera was met with both admiration and suspicion, optimism and skepticism, enthusiasm and irony. Musical traditions and national identities found new meanings along the route of this early Italian migration to North America. 
Click here to read more about the full-house conference at the Academy that led to this book. 
To buy the book, click here.
Claudio Orazi Foreword
Giuseppe Gerbino and Francesco Zimei Introduction
Karen Ahlquist Opera as an Immigrant in Lorenzo Da Ponte's New York
Franco Sciannameo At the Dawn of Italian Opera in America: Phil Trajetta in Charleston (1803) and New York City (1810)
Barbara Faedda Lorenzo Da Ponte and Cultural Life in the United States
Molly Nelson-Haber "Lynch Has Been in Paradise As to Music": The Irish American in Paris and the Diva
Who Inspired Him to Introduce Italian Opera to New York in 1825
Giuseppe Gerbino Finding a New Home for Italian Opera: Manuel García and the Lafayette Theatre
Francesco Zimei Italian Opera Tries to Take Root: Lorenzo Da Ponte's Last Ape Musicale and Its Context
Lucia Marchi In Da Ponte's Steps: Piero Maroncelli and Amalia Schneider in New York
Davide Ceriani Lorenzo Da Ponte's Legacy: Italian Opera, Singers, and Identity in New York City
in the 1840s and 1850s