From Da Ponte to the Casa Italiana: A Brief History of Italian Studies at Columbia University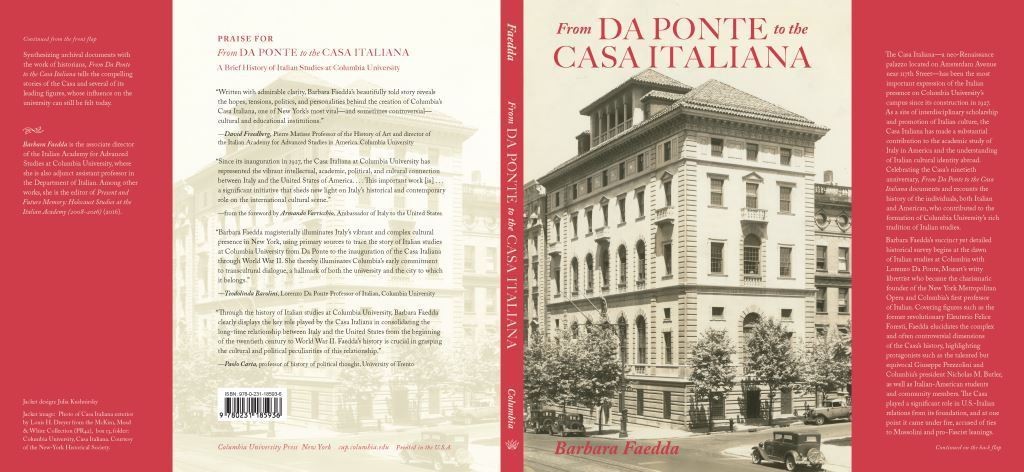 Author(s) 
Barbara Faedda Ph.D.
Publisher 
Italian Academy / Columbia University Press
City 
New York
The Casa Italiana—a neo-Renaissance palazzo located on Amsterdam Avenue near 117th Street—has been the most important expression of the Italian presence on Columbia University's campus since its construction in 1927. As a site of interdisciplinary scholarship and promotion of Italian culture, the Casa Italiana has made a substantial contribution to the academic study of Italy in America and the understanding of Italian cultural identity abroad. Celebrating the Casa's ninetieth anniversary, From Da Ponte to the Casa Italiana documents and recounts the history of the individuals, both Italian and American, who contributed to the formation of Columbia University's rich tradition of Italian studies.
Barbara Faedda's succinct yet detailed historical survey begins at the dawn of Italian studies at Columbia with Lorenzo Da Ponte, Mozart's witty librettist who became Columbia's first professor of Italian. Covering figures such as the former revolutionary Eleuterio Felice Foresti, Faedda elucidates the complex and often controversial dimensions of the Casa's history, highlighting protagonists such as the talented but equivocal Giuseppe Prezzolini and Columbia's president Nicholas M. Butler, as well as Italian-American students and community members. The Casa played a significant role in U.S.-Italian relations from its foundation, and at one point it came under fire, accused of ties to Mussolini and pro-Fascist leanings. Synthesizing archival documents with the work of historians, From Da Ponte to the Casa Italiana tells the compelling stories of the Casa and several of its leading figures, whose influence on the university can still be felt today.
Praise for From Da Ponte to the Casa Italiana:
"Written with admirable clarity, Barbara Faedda's beautifully told story reveals the hopes, tensions, politics, and personalities behind the creation of Columbia's Casa Italiana, one of New York's most vital—and sometimes controversial—cultural and educational institutions."—David Freedberg, Pierre Matisse Professor of the History of Art and director of the Italian Academy for Advanced Studies in America, Columbia University
"Since its inauguration in 1927, the Casa Italiana at Columbia University has represented the vibrant intellectual, academic, political, and cultural connection between Italy and the United States of America. This important work [is] . . . a significant initiative that sheds new light on Italy's historical and contemporary role on the international cultural scene."—from the foreword by Armando Varricchio, Ambassador of Italy to the United States
"Barbara Faedda magisterially illuminates Italy's vibrant and complex cultural presence in New York, using primary sources to trace the story of Italian studies at Columbia University from Da Ponte to the inauguration of the Casa Italiana through World War II. She thereby illuminates Columbia's early commitment to transcultural dialogue, a hallmark of both the University and the city to which it belongs."—Teodolinda Barolini, Lorenzo Da Ponte Professor of Italian, Columbia University
"Through the history of Italian Studies at Columbia University, Faedda clearly displays the key role played by the Casa Italiana in consolidating the long-time relationship between Italy and the United States from the beginning of the twentieth century to World War II. Faedda's history is crucial in grasping the cultural and political peculiarities of this relationship."—Paolo Carta, Università di Trento